Virtual Events vs. Physical Trade Shows
By Jackie Hartnett
It has been six months since a global pandemic crept in and forced adjustments to the way we conduct business.   Prior to March, 2020, attending Expos and Trade Shows were commonplace.  They are considered vital to start-up companies such as Spack International, as well as other suppliers in the organic sunflower oil and organic canola oil industry.  My calendar was chock-full of events I was supposed to jet off to.  Expo West was the first to postpone, and eventually cancel, after much deliberation.  Snaxpo followed suit, and a domino effect took place as Supply Side East and West aborted.  This was followed by virtually every other scheduled expo in the free world.
As an ever-evolving world, virtual events have sprung up to replace in-person conferences.  I have attended quite a few of these online forums.  How do they compare?  Let me explain the pros and cons.  The aspects of virtual events versus physical events that we'll explore are flexibility, ease, cost effectiveness, networking, prospect data, merchandise/brand awareness opportunities, and return on investment effects.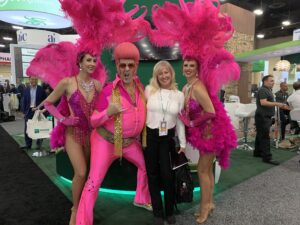 Flexibility 
Virtual conferences offer flexibility to those with busy schedules and in different time zones.  Can't make the scheduled day/time?  Watch a recorded version at a later date.  It also takes time to plan and travel to the event, which delays work productivity.  In addition to the time required away from your office during the actual expo, not a heck of a lot of emails and phone calls are attended to.  Virtual wins in the flexibility category.
Ease
Let's face it, physical expos involve packing, schlepping to the airport, dealing with delayed, and often long flights, and being away from your family and friends for several days.  Virtual conferences provide the luxury of logging on to your computer when the actual event begins and voila, a few hours later, getting back to business.  For the sake of ease, virtual is the way to go.
Cost effectiveness
The expenses incurred with live, in person events are astronomical including booth costs, registration, travel and hotel.  As the virtual trend starts to take root, many of the events have been free to attendees, highlighting longer term events such as Spark Change and Supply Side Network 365 at no cost.  Other organizations, such as SNAC International and Organic Trade Association have been very proactive in organizing events, some with an attendance fee, which have been well represented and attended.  Another win in the virtual column is cost effectiveness.
Networking
While virtual events offer some ability to move around in smaller chat rooms with open discussions, and offers opportunities for 1:1 meetings, I find networking to be very limiting and dissatisfying in the virtual world.  Because you are not in close proximity and can't read body language or nuances of natural discussion, conversations often feel stilted. Only one person is allowed to speak at a time and I find people stepping over others or sometimes voids in chatter.  Nothing can really compare to eye contact, side conversations, happy hours and handshakes that physical events encourage and provide.  Hands down, networking is best in a physical environment.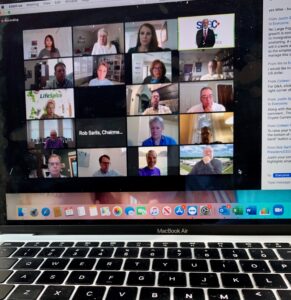 Prospect Data
Both types of events offer exhibitor information which is precious for prospecting.  Both events allow you to see attendee's names either on screen or on the badge you have to wear around your neck. However, with virtual events you don't have the flexibility to move about the forum on your own to strike up introductions.  At physical events, you can duck and weave according to your own agenda.  I would give this one to physical events.
Merchandise/Brand Awareness Opportunities
Do you remember all the swag you used to gather at Trade Shows?  All the delicious samples?  Brand awareness is vital to getting and keeping your company's name into the minds of your prospects.  This is sorely missing from virtual events.  The merchandise are conversation starters, seductions to interact with various vendors you would not have normally engaged with.  Some virtual event-goers don shirts with their logos on them.  I have a backdrop screen with the Spack logo on to block the organized chaos I call my office and to remind my virtual colleagues exactly who I represent.  This one is a tie, in my humble opinion.
Return on Investment Effects
This is a toss up, and perhaps more time and research need to occur before there is any solid conclusion.  Both physical and virtual events leave strong brand association in the minds of participants.  The costs associated with virtual events are less, and lead accumulation is still possible which might put virtual forums at an advantage.
All in all, virtual events have been a great replacement for physical events, as the uncertainty of our future looms.  My calendar has certainly freed up considerably so I can devote more time to the art of selling.  However, I miss seeing old cohorts and meeting new players in this game we call work.  I, for one, will be ready to get back out there when the world can commence in-person trade shows and expos, once again.
First major upcoming show is the Expo West in Anaheim, California: May 24-27 2021