Cosmetic Uses for Sunflower Oil
By Jackie Hartnett
What comes to mind when considering sunflowers?  The majestic presence of a towering plant with huge, bright flowers.  Or their yummy seeds that are great for a snack or atop a salad.  Usage of sunflower oil is becoming more prominent in the kitchen, but other valuable uses remain somewhat unknown: cosmetic applications.
Sunflower oil has been used medicinally for generations because it is rich in fatty acids that work as antioxidants.  These antioxidants are a powerful weapon in the fight against free radicals, protecting the body from aging and disease.  For this reason, it's an excellent addition to natural skin, face and hair care products.  It is full of nutrients such as vitamin E, selenium, vitamin K and amino acids.  Below, please find a host of cosmetic applications you may have not known about that use organic sunflower oil.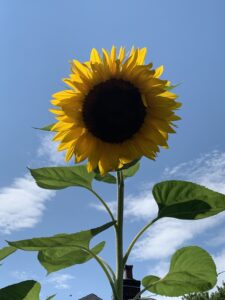 Facial and Skin Care Products
Sunflower oil is naturally non-comedogenic, providing remarkable hydration and firming without clogging pores.  It is believed to assist in the prevention of acne and breakouts.  For this reason, it can be found in many facial and skin care products. For example, click here.
Anti-Aging Masks
Free radicals are unstable atoms that can damage cells, causing illness and aging.  The vitamin E in sunflower oil offers a powerful antioxidant to counteract free radicals to help your skin stay younger longer or reverse the effects of aging.  Anti-aging facial masks made with organic sunflower oil are an effective treatment to offset the signs of aging. For example, click here.
Face and Body Creams
Organic sunflower oil also contains omega-6 fatty acids which decrease inflammation and restores lipids in damaged skin.  Research shows the fatty acids also keep your skin barrier healthy and reduce water loss.  For this reason, organic sunflower oil is ideal for face and body creams, both with sun protecting factor agents (SPF) and without. For example, click here.
Facial cleansers and soap
Due to its non-comedogenic qualities, soap and cleanser products made with organic sunflower oil are popular and excellent for sanitization purposes. For example, click here.
Hair Mask
Sunflower oil is rich in vitamin E, and oleic and linoleic acid.  These properties have been discovered to have benefits for hair health.  They help neutralize free radicals that can damage the hair and scalp and stop hair breakage.  Using hair products made with sunflower oil, helps the hair to hold on to moisture, smooths split ends and makes hair softer and easier to manage. For example, click here.
Lip Balm
Sunflower oil is a great choice in lip balm formulas because they deliver a balm that's rich in antioxidants, while being deeply nourishing and moisturized. For example, click here.
Acne Treatment
Help get your skin clear and acne-free using acne treatment products made with organic sunflower oil.  Rich in vitamins A, C and D and natural carotenoids, these products  form a protective barrier on your skin to get rid of acne causing bacteria.  They replenish your skin's moisture and oil level so your pores stop overproducing oil. For example, click here.
For more information on Spack Organic Sunflower Oil Products, click here.